Suicide is NOT the answer if that's what you're thinking. STOP and ASK FOR HELP NOW!
For immediate help, please dial 1(800) 273-8255
CALL 911 if this is a medical or life threatening emergency.  If you need the police, ask for a CIT officer. They have received extra training on handling these situations.
Do You or Someone You Know Need Help with a Crisis?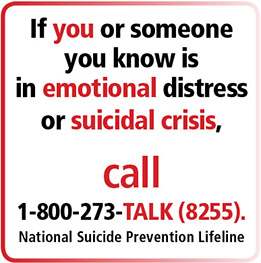 Finding Help In North Carolina for a Crisis Related to Mental Illness or Substance Use
Behavioral health crises can be serious but most do not require an evaluation at a hospital emergency department. Accessing other specialized crisis services may help you avoid a lengthy visit to an emergency department and connect you more quickly to ongoing resources to support your recovery.
North Carolina's publicly funded crisis services—which may be used by anyone regardless of insurance status or an ability to pay—are managed by Local Management Entities-Managed Care Organizations (LME-MCOs). Start by calling your LME-MCO's 24-hour toll-free number. The LME-MCO staff can help you find the right kind of evaluation for your specific needs. Select Your County Here
For more information about 24-hour crisis services in your area:
The National Suicide Prevention Lifeline's 24 hour toll-free crisis hotline, 1.800.273.TALK (1.800.273.8255) can put you into contact with your local crisis center that can tell you where to seek immediate help in your area.
In areas where 211 is available, dialing this number can connect you with mental health crisis services in your area or help you find where to seek immediate help in your area.
For referrals to affordable community mental health services:
Your local Mental Health America affiliate is an excellent resource for information about local programs and services including affordable treatment services.
Network of Care offers information including descriptions of community treatment services and other supports for the following states: Arizona, California, Connecticut, Hawaii, Illinois, Iowa, Maine, Maryland, Michigan, Montana, Nebraska, New York, North Carolina, Ohio, Oregon, Pennsylvania, Texas, Virginia, and Washington. For some states, information about all counties is currently included; for others only some counties are currently listed. Click on your state, then click on Services (top right) to begin your search.
The Substance Abuse and Mental Health Services Administration's Health Information Network (SHIN) has a Mental Health Facilities Locator that can also help you find community outpatient, inpatient and residential treatment facilities, including affordable mental health services in your area.
The SAMHSA Substance Abuse Treatment Facility Locator and the SAMHSA 24/7 Treatment and Referral line at 1.800.662.4357 provide referrals to alcohol, substance abuse and dual diagnosis treatment facilities, including facilities that offer sliding scale fees and other special payment arrangements. Dual diagnosis services provide integrated treatment for individuals who have both an alcohol or substance abuse problem and a mental illness. Use the detailed search option on the left hand side of the page to find the facilities that most closely match your needs.
Rehab Locator offers a searchable database for drug and alcohol rehab centers.
Universities or teaching hospitals may also be a source of low-cost or free treatment services. It is recommended that you contact those in your area.
The World Federation for Mental Health can assist people from other countries throughout the world in finding mental health services in their area.
For referral to individual mental health providers:
You can use Psychology Today's Therapy Directory to search for mental health professionals in your area. You can search by zip code, city, last name, etc. For each provider listed, you can read about their therapy approach, specialty areas, information about their fees including whether they accept insurance and whether they offer sliding scale fees, as well as their credentials and contact information. There are a variety of options for sorting your results to find providers who most closely match your needs. You can also send them an initial e-mail.
The Therapist Referral Network at 1-800-843-7274 and 1-858-481-1515 provides referrals to individual mental health professionals. Providers participate in a variety of insurance plans. Some offer affordable fee structures and may accept Medicare and Medicaid.